Introduction
AICHI ARTS CENTER Original Film 2011
director Go Shibata "Gui aiueo:S"
2010/HD/56min/Black & white (a part of color)/Stereo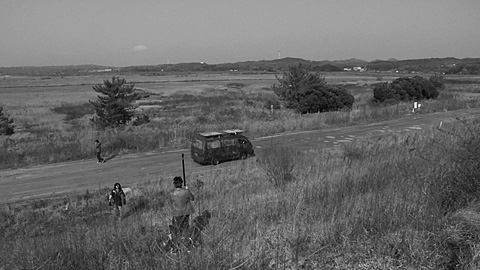 Shooting the Film as if Playing in a Band…

Shooting the Film as if Playing in a Band…

Gui aiueo:S is a band.

They may not have instruments such as guitars or drums, but they use their filmmaking equipment to shoot a movie as if they were playing music together.

That's what they do as Gui aiueo:S.

Now they have gone on their first journey.

Traveling around in their van, dubbed 'The Whale', they record audio, shooting images and interact with the spaces and people they encounter on the journey.

This is episode Zero.

The maiden journey of Gui aiueo:S has only just begun; a journey to play the world….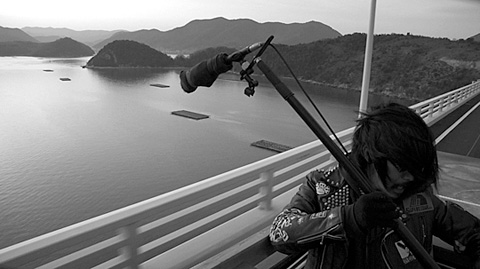 Director Go Shibata and his New Direction -
A Prologue of Fragmentation and Creativityー

This film was produced at the request of Aichi Arts Center, and the theme of the project was to avoid falling into clichéd formats of 'film' and to attempt visual expression in new, borderless ways.

However, in the process of planning, director Shibata remained insistent upon following certain established processes of filmmaking.

As a result, the idea came to make a film depicting the crew working together to create a movie in the same way that a band would perform their music.

The crew therefore became the cast of the movie, which buils an unique style reminiscent of Rober Kramer.

The backbone of the film becomes driving 'The Whale' from place to place and recording their interactions in audio and images, creating a successful fusion of fiction and documentary.

All of the background 'noise' that is usually edited out or cleaned up before reaching the audience is left in the film, swelling and subsiding naturally.

Eventually, this 'noise' begins to take on a form and life of its own.

Once the audience recognizes this, it means that Gui aiueo:S has been successful in playing the world.

In works such as 'NN-891102'('99) , 'Late Bloomer'('04) and 'DOMAN SEMAN'('00) Go Shibata has continued to direct films with a powerful yet steady skewed perspective, and this time his crew of filmmakers are taking their first steps into an unknown world with no known destination.

This film is a recording of the first chapter of that alternative adventure.

The next chapter of Gui aiueo:S may take on a different form completely; indeed they may suddenly start performing in the real world where you and I exist.

AICHI ARTS CENTER Original Film 2011


With films such as 'Twilights' (1994/dir. Tengai Amano), 'KAZUO OHNO' (1995/dir. Daniel Schmidt), 'UTU-SHIMI' (1999/dir. Shion Sono), 'The Art of Fugue' (2001/dir. Takashi Ishida) and 'HAND SOAP' (2008/dir. Kei Oyama), Aichi Arts Centre has consistently produced works met with critical and popular acclaim both within Japan and internationally.

Each year the AIC releases films of various genres united by the theme of 'the body', selecting filmmakers with an interesting and unique perspective to showcase their talent.

In 2011, director Go Shibata was chosen and 'Gui aiueo:S' became the 19th release in the Aichi Arts Centre Original Film series.